PIANIST DEREL MONTEITH REVEALS A SPIRITED, SEASONED ARTISTRY WITH
TWO NEW ALL-ORIGINAL RELEASES
Quantity of Life: in trio with Andy Crawford (bass), Jason Brannon (drums)
Connemara: a fully improvised solo piano offering, poetic in spirit
Available October 18th, 2019
Personnel:
Derel Monteith, piano
Andy Crawford, bass
Jason Brannon, drums
Drawing on harmonic and rhythmic currents from a wide range of modern jazz but with a melodic sense all his own, pianist and composer Derel Monteith documents his strikingly mature artistic conception on two vibrant new releases: the trio date Quantity of Life and the captivating solo piano recital Connemara.
A North Carolina native now based in Peoria, Illinois, Monteith has gained considerable wisdom through his work with Nnenna Freelon, Vanessa Rubin, Frank Foster and many more, not to mention his composition studies with Grammy-winning bandleader Maria Schneider. On Quantity of Life and Connemara he shows a far-sighted musical imagination and a refined instinct for groove and texture, whether communing with his trio mates Andy Crawford and Jason Brannon or relying entirely on himself in a fully improvised solo piano setting.
"I've played in piano trios for decades," Monteith says, "but with this one I've taken a much more intentional approach to developing repertoire and rapport with three specific players. I'd played with Andy and Jason on the local and regional scene here in central Illinois, where there's a surprisingly vigorous little jazz community: a number of schools and places to play, organizations that present concerts. Andy teaches at Knox College in Galesburg, Illinois, and Jason is a Berklee graduate who returned home here after his years in Boston."
Striking a delicate yet assertive balance on Monteith's original material, the trio takes flight on Quantity of Life, deftly dealing with earthy groove, elegant waltz feels, balladic lyricism and swinging straightahead jazz. Monteith tends toward singable, accessible melodies, even as he incorporates advanced harmonic and rhythmic ideas absorbed from giants of the modern piano lineage, including Herbie Hancock, McCoy Tyner, Keith Jarrett and Chick Corea. From the churning beat of the opening "Trash Talk" (inspired by the sound of hill country blues) to the funky tempo transitions of "Downtown Creep" to the overt gospel tinge of the closing "Taste & See," Monteith and the trio employ a rainbow of shades and colors, employing technique in the service of plainspoken and often poignant songs ("Innocence," "Spirit & Solidarity," "In My Humble Opinion").
Of the album title Quantity of Life, Monteith cites the recent loss of his father, sounding reflective but ultimately hopeful and resolute: "It's obviously a play on 'quality of life.' It struck me while my dad was declining that at some point it's the quantity that matters. I also look at 'quantity of life' as how much energy we put into what we're choosing to do, the 'quantity' of life that we bring to our days."
While testing microphone positions at the piano for Quantity of Life, Monteith found himself addressing his other main vehicle of expression, solo piano. Before long he had generated an album's worth of material, all freely improvised in the moment. The resulting Connemara is titled for the region of that name in the Republic of Ireland (the cover art features the sumptuous green marble distinctive to the area). Each richly contrasting piece proceeds from a textural or motivic device that ultimately holds the music together. "There are modern classical influences, folk or Americana influences, but very little straightahead," Monteith notes. "I start from nothing," he adds, "but I might have a chord shape in my head, for instance. I work with whatever comes out and develop it from there."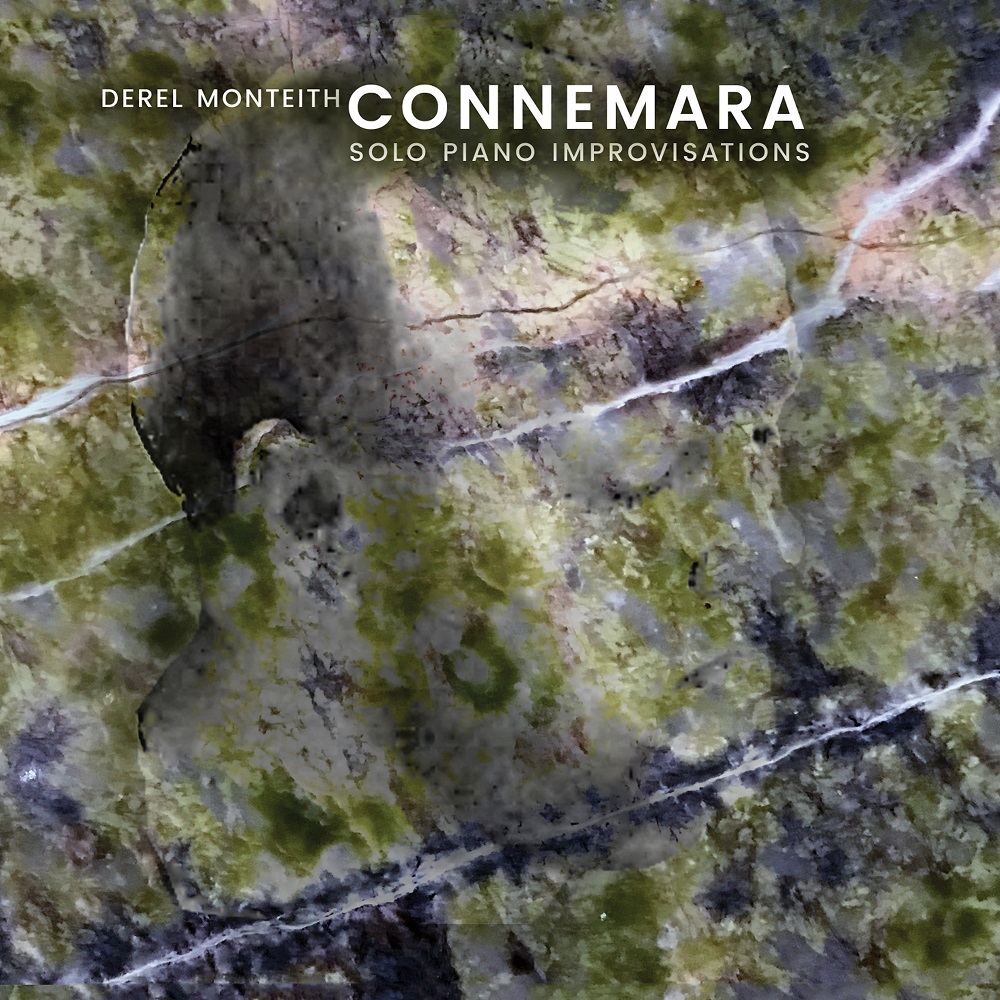 Opening with the abstract rubato meditation "Dovecote" and the oceanic, expansive title track, Monteith moves into a more abrupt and staccato articulation on "Rise & Repeat" before venturing the wide looping arpeggios and floating, rippling rhythms of "Rainbow Symphony Revisited." In closing, he conjures the beautiful, somewhat mournful "Where Old Men Gather," which could be a reference to the afterlife, but also paints a more literal picture of those local American haunts where "groups of old men gather in various stages of dozing," Monteith says, "telling bad jokes with pastries and cups of coffee."
Beginning as a competing classical pianist and avid rock music fan during his childhood in Charlotte, North Carolina, Monteith became immersed in improvised music after discovering Keith Jarrett, Miles Davis and Kenny Kirkland. He graduated from the University of Miami with a double major in jazz studies and audio engineering, and began to write, perform and record his own music, expanding his influences all along the way. In addition to Maria Schneider he has studied with Jim McNeely, Frank Kimbrough and others, and has racked up credits with the likes of Greg Ward, Jim Snidero and the Artie Shaw Orchestra. He also holds a law degree from the University of North Carolina at Chapel Hill and currently balances his musical activities with a career as an intellectual property attorney for a large company.
Videos